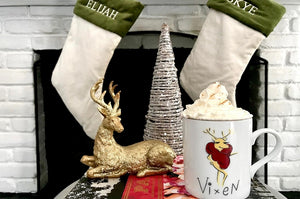 The Best Dairy-free Superfood Hot Chocolate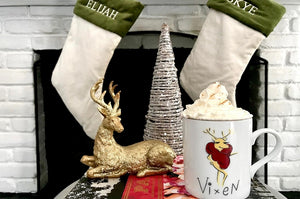 I'm not a fan of winter, despite having lived in extreme winter most of my life. I don't like coats, cold weather or early dark days, but I absolutely love one thing that winter brings - hot chocolate. Sitting by a roaring fire, with a steaming cup of hot chocolate warming my hands is my idea of a perfect winter evening.
I am serious about my hot chocolate; when ordering out I will ask if it's made with water or milk. Water in hot chocolate? I shudder. Since my household became dairy-free, I have been on a quest to make the best dairy-free hot chocolate that is still creamy, rich and delicious. After much trial and error, I have the perfect recipe.
The key is equal parts coconut milk and almond milk. You need the coconut milk for heft and creaminess, but almond milk keeps it from tasting too much like coconut. Vegan chocolate chips add richness and taste just like the dairy version (I have been known to sneak a handful...or two or three).
Date syrup is a new find for me and I love it. It adds a little sweetness with hints of caramel, maple, and vanilla. It's also rich in antioxidants and healthy minerals. I don't like sweet drinks so I only use a teaspoon, but you will probably need more.
The addition of collagen powder, MCT, and cacao powder (not to be confused with cocoa powder) turn a decadent treat into a powerhouse superfood drink. You can read about the benefits of collagen, MCT, and cacao in this post. Of course, you can also make this hot chocolate without the addition of the superfoods and still enjoy the creamy, deliciousness knowing that you won't have a dairy-induced upset stomach later.
I know, this looks like so many ingredients, but I promise you that it's worth it! You'll sip happily knowing that everything in your cup is not only good but good for you.
The Best Dairy-free Superfood Hot Chocolate
Makes one 10 ounce cup.
5 oz coconut milk (from a can)
5 oz almond milk (sugar-free)
2 tablespoons cacao powder
1 tablespoon vegan chocolate chips (such as Enjoy Life)
1/2 teaspoon vanilla
1-3 teaspoons date syrup to taste (or another non-refined sugar sweetener )
a pinch of salt
1 scoop MCT oil powder (or equivalent MCT oil)
1 scoop collagen powder 
Blend all ingredients with an immersion blender then heat on the stove or in the microwave.
I top my hot chocolate with mini-marshmallows, whipped cream (from almond milk), and a sprinkle of cinnamon. Mmmmm! Add a pair of cozy socks, a roaring fire, and a Harry Potter movie marathon and it's a perfect winter day.
Subscribe to our emails for more resources and inspiration to enhance your wellness journey.